Stock
With it being so chilly right now, I feel that soup season is upon us. I thought I would start off with how to make stock (chicken stock is the most common). There is nothing better than home-made stock in the freezer ready for the time when you want to make a warm and hearty soup, or just need the stock base to add to another recipe.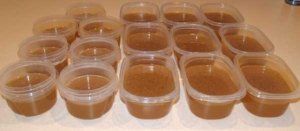 In preparation of making soup stock, there a few things you can do ahead of time.
The first thing is save all bones. For example, after I roast a chicken, I strip all the meat off the carcass (if there is any left) and freeze the bones. The same can be done with beef bones and fish. With fish, I use the tails from shirmp, claw shells, lobster shells, mussel shells, etc.
I also freeze various vegetables. A good example of this is the woody ends that you have snapped off of asparagus. Another good one is broccoli stems. Those little stalks of celery that you don't have a use for and the green ends of leeks are other good examples.
I freeze both bones and vegetables as a habit all year so I have the fixings to make stock anytime I need to.
Of course, you can buy the tetra packs of stock to use or bouillon cubes, but I found a few health issues with these:
• Canned stock contains both Potassium Chloride and Disodium Inosunate.
•Boxed stock has Potassium Chloride, Disodium Inosinate, and Disodium Guanylate added.
•Powdered (bouillon cubes) stocks have MSG and Tricalcium Phosphate, Disodium Inosinate, Disodium Guanylate, and Sulphites.
See the "Additives" page for the effects of these chemicals.
Cost Comparison:
It might take a bit of time to make your own stock, but as you can see by the price comparison (I based it on chicken stock as that is the most common used), you can save yourself over 300%. That is a HUGE savings plus no chemicals and probably better tasting too. How can you lose?
Store Bought
Home-made Chicken Stock
Canned chicken stock: $0.75 / 100 ml
$0.08 / 100 ml

Boxed chicken stock: $0.34.3 to $0.46.4 / 100 ml
Powder (bouillon cubes): $2.66 to $5.85 / 100 grams
Click here for the recipe. (will open in a separate window)
I hope you enjoy making your own stock!